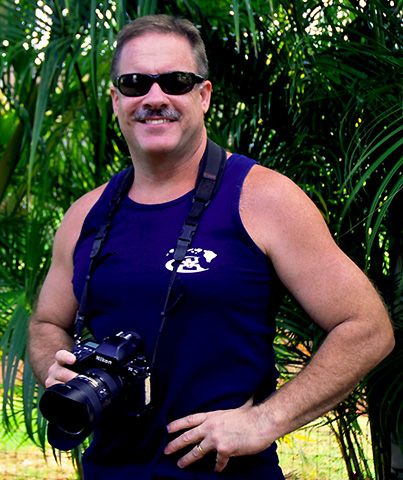 Vincent Khoury Tylor
(Click HERE for information regarding Copyrights.)
Aloha from The Hawaiian Islands!
I was born in Washington DC though lived most of my life throughout Virginia before moving to Kauai at the end of 1997 with my wife Michele and our three kids, Hunter, Scott and Chelsea. The draw for me were those amazing emerald green mountains, turquoise colored waters, incredible sweet fragrance in the clean air, a variety of unique landscapes and seemingly endless beauty along with the warmth and year-round active, outdoor lifestyle of Hawaii. I have no plans to leave this very special place!
I've always enjoyed landscape photography. It's a truly satisfying kind of work and experience whenever I can get out there all alone with just my camera and gear in the natural world that surrounds us all.
Waterfalls, mountains, valleys and canyons, beaches, flowers, wildlife, monuments, forests, streams, lava flows, seascapes, wildlife and more; I truly enjoy photographing all of it! Though I've made several trips to other beautiful locations in the U.S., because of living in Hawaii throughout the year, most of what I photograph today is Tropical in nature.
I try to work every location as thoroughly and carefully as I possibly can, often returning at different times of the day and year looking for something exceptional. I've also taken photography trips to Shenandoah National Park, the Pacific Northwest and Maryland's Eastern Shore & will be adding these images to our Website Galleries soon.
It has been my pleasure to share some of these spectacular locations with people all over the world. If you plan to visit the Hawaiian Islands, our Prints, Giclee, Bookmarks, Magnets and other items with my photography are sold in over 150 gift stores throughout Hawaii as well as on this Website. Here's a link discussing the efforts we've put forth to offer you the very best value in terms of quality and pricing: About Our Gallery-Quality Prints.
In 2009 we opened up our Kauai Photo Tours business which has been a wonderful success as we now take people to many of these same amazing locations to photograph for themselves.
My wife, Michele, and I who together own Hawaiian LandMark Images and Kauai Photo Tours, hope that these photographs of Hawaii's natural wonders will enhance your appreciation for the marvels that still abound in this Spectacular Tropical Island Paradise called Hawaii.
Many thanks for stopping by!
A hui hou from the Islands ... (see ya around),
Vince
Feel free to contact me at vince@hawaiianphotos.net